Sierra Nevada is well known internationally for its natural values, as it is the largest reservoir of montane biodiversity in Europe. The University of Granada (UGR) is a leading academic institution with a long research tradition in Sierra Nevada, providing a very good level of scientific knowledge on broad topics related to biodiversity, ecology and global change. The University of Granada also has extensive experience of continuous collaboration with the Junta de Andalucía (Regional government) and the Ministerio de Transición Ecológica (Spanish government), being responsible for the Scientific Coordination of the Sierra Nevada Global Change Observatory from its origins, with the purpose of developing a scientific program to monitor the health status of the Sierra Nevada ecosystems.
Sierra Nevada Global Change Observatory have also a broad collaboration expertise in projects and international organisms such as GLORIA, GLOCHAMORE ECOPOTENTIAL, EUBON, ILTER, LTER Europe, CYTED, GBIF, IUCN, etc. This collaboration is now specially relevant in Europe and South America mountainous areas.
Our challenge now is to promote the transformation of the Sierra Nevada Global Change Observatory Project to an European infrastructure under the LifeWatch ERIC umbrella: The Thematic Center on Mountain Ecosystems (University of Granada-Sierra Nevada), promoting cooperation and the exchange of information among researchers, managers and citizens, here and worldwide.
The observatory programme pursues the following general goals:
To put into value all the existing scientific-technical information on the natural systems in Sierra Nevada.

To assess, using standardized methodological protocols, the functioning of the ecosystems of the Sierra Nevada Protected Area, its natural processes, and its dynamics, in a long-term perspective.

To know the population dynamics, phenological variations, and conservation problems of different key organisms as indicators of ecological processes that can be affected by global change.

To identify the possible effects of global change on the species, ecosystems, and natural resources, providing a vision of the trends of change.

To design mechanisms to evaluate the effectiveness of the management activities undertaken in Sierra Nevada.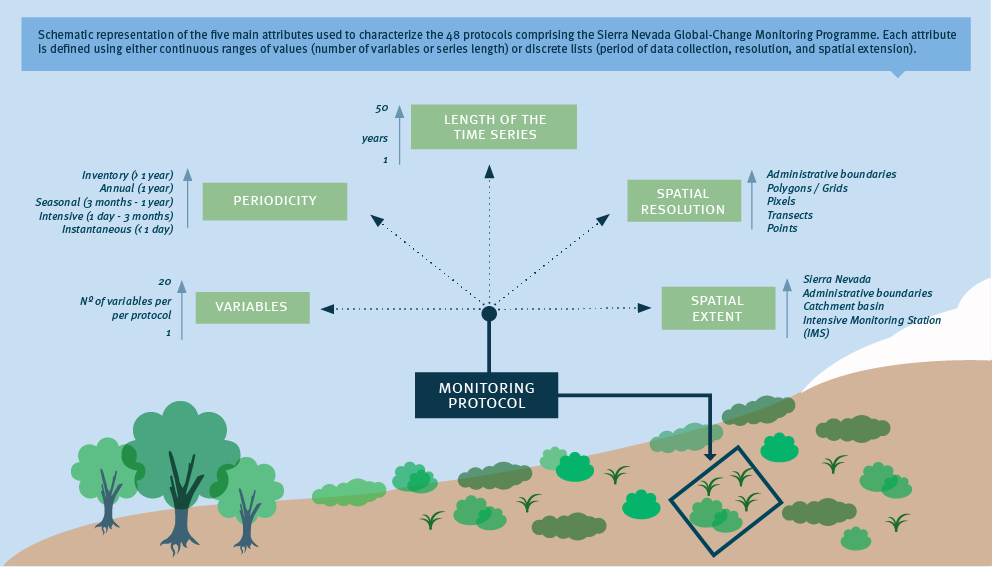 In short, our programme is intended to diagnose the degree of ecosystem sensitivity to changes, and their adaptation capacity, fostering resistance and resilience of the ecosystems through suitable management actions. A major premise of our project is that environmental management should be supported by the most up-to-date tested scientific-technical knowledge. We have put into practice this philosophy, proposing key questions from the outset, defining the goals to be pursued with the actions undertaken, and specifying the methodological and analytical details necessary to address them. To this, we add the spatial and temporal dimensions of the actions and their monitoring, planning the work that should be carried out, and the different stakeholders involved.